The terroir
Return
The terroir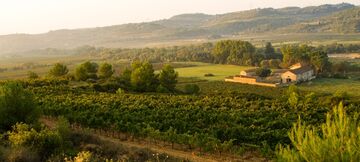 CLIMATE, SOIL, MEN
Our hot Mediterranean climate is tempered by the north wind – the Tramontane - from the mountains of the Cévennes. Cool nights help our grapes ripen gently, and the breezes dry up any moisture that might spoil them, so they are in the best possible shape when picked.
Four factors: our climate, our terroir, the grapes we choose to grow, and our skill in making our wines.
Our vineyards feature three main soil types
Rolled pebbles
which help us make rounded, supple and fruity wines
Limestone terraces
which bring freshness, finesse and aromatic richness
Sandstone
which brings power, complexity and minerality
Finally, as winemakers, we use our know-how to work with the climate, the terroir and our vines in as natural and respectful a way as we can. Nature has given us this wonderful heritage, and we do our utmost to preserve and enhance it.
That's why we practise Sustainable wine growing, a balanced approach to winegrowing.
And in the winery, combining traditional winemaking with the most modern vinification methods enables us to achieve the best we can.
It's the combination of these four factors that gives wines from VIRANEL a real identity.