The Winery
Return
The Winery
Making and ageing wine in the heart of the Saint-Chinian appellation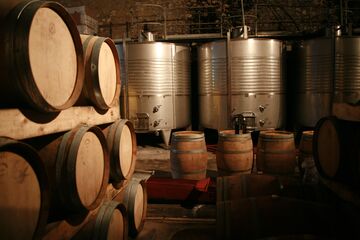 Making and ageing wine in the heart of the Saint-Chinian appellation
As an independent wine estate we have one of the most diverse ranges of varieties in Languedoc, growing 14 different grapes: Syrah, Grenache Noir and Blanc, Mourvèdre, Carignan, Cinsault, Cabernet Franc and Sauvignon, Alicante-Bouschet, Roussanne, Vermentino, Bourboulenc, Marselan and Viognier.
We are convinced that the balance and ageing potential of our wines is thanks to the quality of our grapes. There's no secret: without great grapes there can be no great wines.
This is why we take so much trouble to look after the health of our vineyards.

Vinification and ageing are simply different parts of the process but these steps allow us to focus on the primary ingredients of our terroir. The magic happens in our cellar, where we do everything possible to showcase the year's work in the vineyard.
We have many faithful clients, including Le Cellier des Docks (Biarritz) and Monsieur Vin (Marq en Baroeul), who purchase our powerful table wines as well as our light, fruity white wines.
Vinification Equipment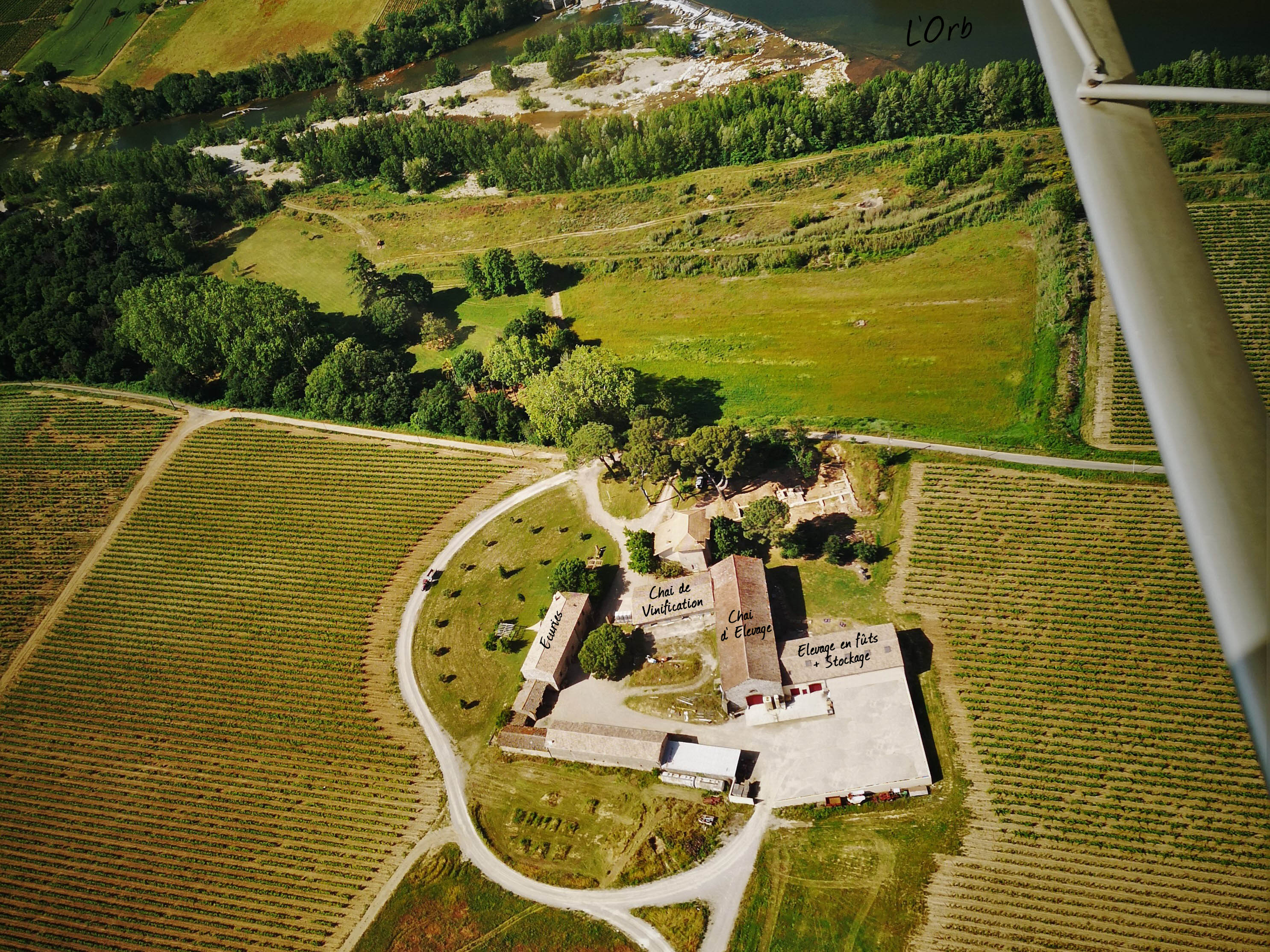 Our winery has three connecting buildings:
The oldest - our vinification cellar - dates back to 1870. It has a surface area of 200m² and mainly features half-buried concrete tanks built alongside the harvest reception area, meaning that we can transfer the grapes into the tanks using gravity and without crushing them.
Our 400m² ageing cellar was built in 1887 and features concrete and stainless steel tanks.
The most recent building – used for barrel ageing and storing bottled wines - dates back to 2013. It has a surface area of 300m² and is air conditioned throughout.
We prefer to use concrete tanks because of their thermal inertia. We have a total of 25 concrete tanks (some half-buried), most of which are temperature-controlled, with a total volume of 2900 hl. We also have the capacity to vinify 1800 hl in temperature-controlled stainless steel tanks. The total capacity of our tanks (three times larger than our harvest) and the variety of sizes of tank (50 hl – 300 hl) means we can adapt our wine making and ageing, vinifying individual parcels separately.
Some of our wines are aged in French oak, using 225- and 300-litre barrels (we currently have around 80 barrels).
How is wine aged ?
The concrete tanks (six in total, half-buried at -2 metres) have thick walls of around 60 cm, which means we can vinify and age our wines using the earth's natural temperature (8°C). The thickness of the walls of the tanks also prevents any movement of the wine when there is a change in temperature outside (heat can make it rise/cold can make it descend, creating a vortex).
However, these tanks also have some drawbacks. The fact that they are half-buried means that at certain times during the wine making process we have to work in a deep gutter (the "champot"), in order to access the bottom of the tank.
We have a pneumatic press with a closed cage which avoids crushing the grapes and oxidation of the must, and which allows us to extract the juice at a relatively low pressure. This helps us make finer wines, particularly in the case of whites and rosés, and the pressed juice for our red wines is less astringent.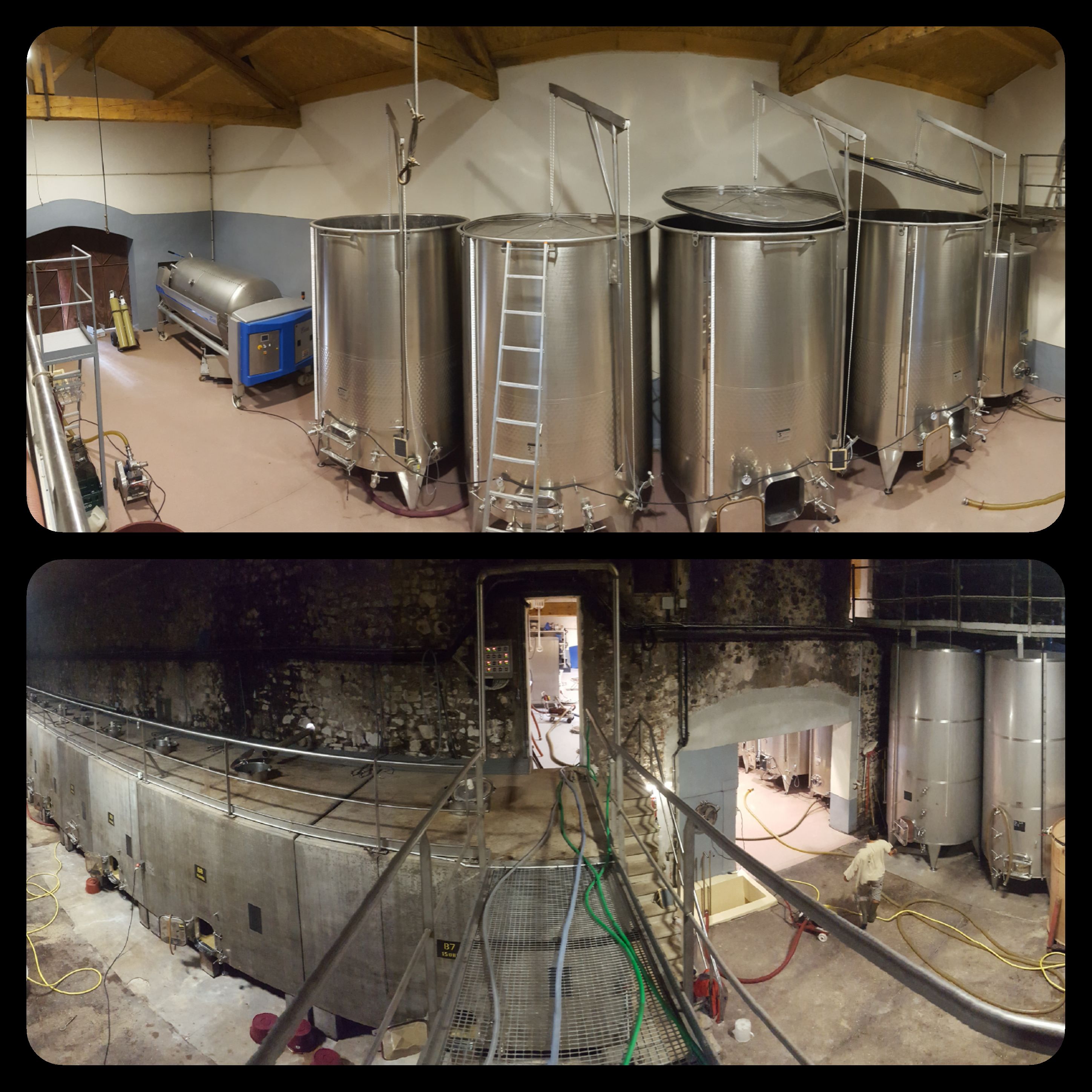 Languedoc wine making methods
Although our winery has modern equipment, we like to use traditional techniques. All processes regarding the juice and wine, including its extraction and tannin levels, are carefully monitored by the winemaker; we don't use high-power machinery to do punch downs or pump overs.
Almost all our grapes are destemmed, either by a sorter attached to our picking machine (a Selectiv Process Pellenc) or by a destemmer at the reception area (for hand-picked fruit).
Red wine making
Almost all our different grape varieties are vinified separately, allowing us to harvest each parcel at optimum ripeness. The blending only happens some 6 – 24 months later, depending on the wines in question.
For our IGP (Indication Géographique Protégée – Protected Geographical Indication) wines, we let the grape variety speak for itself. This is why the maceration periods are quite short (7 – 15 days) and at relatively cool temperatures, to preserve the fruit character, freshness and expression of the grapes. Extraction is achieved by daily délestage and pumping over the cap; we run the wine off quickly and let it go through malolactic fermentation. The press wine is always separated from the free-run juice.
For our Saint-Chinian appellation wines, we let the terroir speak. The grapes have more potential so the maceration period is longer (15 – 40 days), and done at higher temperatures. Extraction is achieved by punching down the cap and délestage, to extract the grapes' tannic potential and make more powerful wines. Malolactic fermentation often starts in the tank, giving the wine the volume and body it needs in order for the tannins to be integrated.
During the vinification process we taste each tank daily. This means we can adapt our methods according to the kind of wine we want to make. There are no recipes or set ways of doing things: each vintage is a new challenge that brings its own surprises.
White and rosé wine making
We make a white 100% Viognier IGP wine which expresses this grape's vivacity and aromatic potential. The harvest is done at night when the temperatures are lowest, to avoid oxidation and keep as much fruit character and freshness as possible. The grapes are quickly transported to the press and the vinification is done in a temperature-controlled stainless steel tank. This wine never undergoes malolactic fermentation.
For our white AOP Saint Chinian wine, the focus is on richness and complexity. It is a blend of four grape varieties, picked at optimum ripeness, vinified partly in stainless steel tank and partly in 300-litre oak barrels, then aged on lees to add complexity and mouthfeel.
Our Languedoc terroir is bathed in sunshine, so the challenge is to have good acidity levels in our wines as this is what gives them balance and ageing potential. For this reason we rarely allow malolactic fermentation to happen, although there are a few vintages that are the exception to this rule.
Our rosé wines are worked in the same way as our whites. We focus on freshness and fruit for our Trilogie (an IGP wine), and on complexity and mouthfeel for Tradition (our AOP Saint-Chinian wine). The working methods and equipment are the same as for our white wines.
What does saignée means ?
Saignée is the name of a technique used when making part of the blend for our AOP rosé. A rosé wine made using the saignée process (as opposed to rosé made by the direct press method) brings a smooth roundness and finesse to the blend. The saignée process means bleeding off some of the juice destined to make red wine after only a few hours of maceration (usually at the end of the harvest day, after 6 – 12 hours of maceration), and then vinifying it.
The juice taken off has a higher sugar content because it is the first juice to come out of the grapes, so it has richness and a rounder mouthfeel. It is also low in tannins because it has not been pressed, and thus brings more finesse to the wine. By bleeding the tank we also concentrate the red wine as this process raises the ratio of solids to liquid (there is the same amount of grape skins and pips, but a lesser amount of juice).

If you have read all the way to the end, well done! To conclude, I'm going to repeat myself: make no mistake, the work done in the winery is a key part of the wine making process, but nothing is as important as ripe, concentrated, well-balanced grapes.