How do you make red wine?
Harvest time: quality grape varieties and flavoursome wine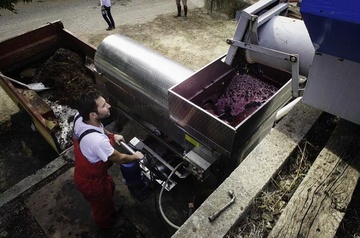 Château Viranel: painstaking process and excellent results
An ancestral winemaking method
According to the dictionary, wine is naturally fermented grape juice. But beyond the simplicity of the definition, there is a complex vinification process in which people play a major role. To extract the raw material from the grapes, our winemakers Nicolas and Arnaud Bergasse use the technique known as racking or délestage. It consists of draining off all the grape juice (known as the must), to a secondary vat, then quickly reintroducing it into the initial vat, breaking up the marc cap naturally deposited at the bottom.
Vatting and fermentation are essential steps in the red wine making process. The aromatic character and flavour profile of the wine will depend on the extraction techniques and tastings during the different fermentation stages in the vat. Our estate's wines for ageing can be macerated for up to 40 days.
To learn more about the red wine vinification process, contact Château Viranel's winemakers (Nicolas and Arnaud Bergasse) by filling out the online form provided.
Other questions that may interest you
You have a question?
Error! Thank you to enter all required fields